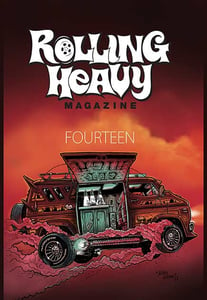 $

9.95
Rolling Heavy Magazine #014
In this issue of Rolling Heavy Magazine:
Cover Art: Nate Greco
The Dutch Oven ( Mattias's 75 Chevy G10 )
The Riding Easy Van ( 1968 Dodge A108 )
Parts Run ( John Massey's 3rd Gen Chevy )
Dude, I can totally draw a van. ( Glenn Hudak )
DEEZCREW ( Japan's Van Shop )
CB SLANGUAGE
Van Jams: House of Broken Promises
Green Fuzz ( Kevin Moore's 2nd Gen Ford )
Van of The Rising Sun ( Yuki Kawasaki's 1977 Chevy G20 )
Ask Captain Heavy
& More!!!
56 Pages of Maximum Van Action!
THANKS FOR THE SUPPORT!!!
SUPPORT SMALL BUSINESS!!!!