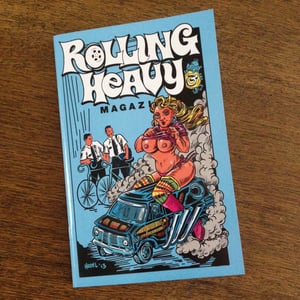 $

9.95
Rolling Heavy Magazine Issue #003
VOl.3 Bigger w/ 56 pages of more Awesomer Vanage.
Features include:
Drifter - Chadly Johnson's 1977 Dodge
Easy Does It - The eBay build van by Mackey's Hot Rods
Special Van Story by Automotive Journalist "Matt Stone"
How To Get A Girl To Take Her Shirt Off & Wash Your Van w/ It
Econowest 2013
MoonEyes X-Mas Party 2012
Hutch's Guide to Awesome Austin
Shiner Premium Van - Shiner Beers 1974 Chevy G10
Van's Shoes Mid Dodge by Mr. Cartoon
A van editorial with the stunning "Sabaanna" from Saba Anna Swimwear
Cosmic Death Boom - Glenn Hudak's 1964 Econoline
Readers Rides
Aussie Vans from The Majestic Vanners Van Club
Van Jams, CB SLANGUAGE, Ask Captain Heavy and much much morer.