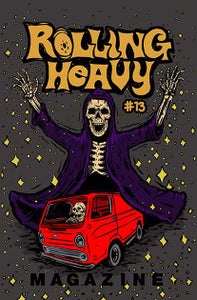 $

9.95
Rolling Heavy Magazine #013
In this issue of Rolling Heavy Magazine:
Cover Art: Shawn McKinney
Solid Hex ( Leland's 64 Econoline )
Balls Deep ( Metal Mike's 2nd Gen Chevy )
Lil' Vandit ( Arlen's Early Super Van )
Dude, I can totally draw a van. ( Malorie Paige )
Dean's Machine ( Dean Jeffries Mid Dodge )
CB SLANGUAGE
Van Jams: Sabbath Sabbath & Sabbath (in honor of Sabbath By The Sea)
Perro's 75 Econoline
EZ's Toons ( new animated series )
Ask Captain Heavy
& More!!!
56 Pages of Maximum Van Action & Hot Mamas!!!!
THANKS FOR THE SUPPORT!!!
SUPPORT SMALL BUSINESS!!!!