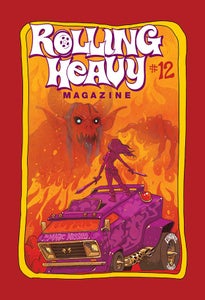 $

9.95
Rolling Heavy Magazine #012
In this issue of Rolling Heavy Magazine:
Cover Art: Chris Prynoski
Vandalf
The Shafter Econoline
Dude, I can totally draw a van. ( Jerry Roth )
Boogy Van
HOW TO: Top 5 Tips for Summer Van Camping Trips
The Best Little Sportsman In Texas
CB SLANGUAGE
Van Jams
Andy's Good Times Machine
Blue Collar Econoline
Ask Captain Heavy
& More!!!
56 Pages of Maximum Van Action & Hot Mamas!!!!
THANKS FOR THE SUPPORT!!!
SUPPORT SMALL BUSINESS!!!!